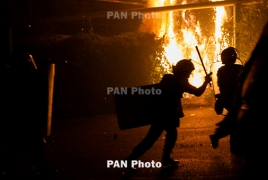 PanARMENIAN.Net – Police spokesman Ashot Aharonyan said investigations into incidents of violence against media representatives are underway following clashes between protesters and law enforcement agencies.
Supporters of the gunmen who are holding a police HQ in Yerevan rallied on Friday evening.
The gunmen are members of the Sasna Tsrer (Daredevils of Sassoun) movement. One police officer was killed, and several more were wounded in a shootout that broke as the members of the group hit the gates of the police department with a track. All the captives have been set free. The group demand the release of Jirair Sefilian, the founder of the Founding Parliament who was arrested on June 20, as he and a group of people had allegedly planned to seize premises and communication facilities, including the Yerevan TV tower. They also demand the resignation of President Serzh Sargsyan and the creation of a transitional government. Also, they want the authorities to halt Karabakh negotiations fearing they are going to cede some lands around the former Nagorno Karabakh Autonomous Oblast to Azerbaijan.
On July 27, the gunmen took 4 paramedics hostage, and released only one of them the next day.
Aharonyan said the police
Article source: http://www.panarmenian.net/eng/news/217983/

Useful Links: Swiss Watches | Watch Coupons | Coupons | Alu Foam | Security Rooms | Oldtimer | Bitcoin News