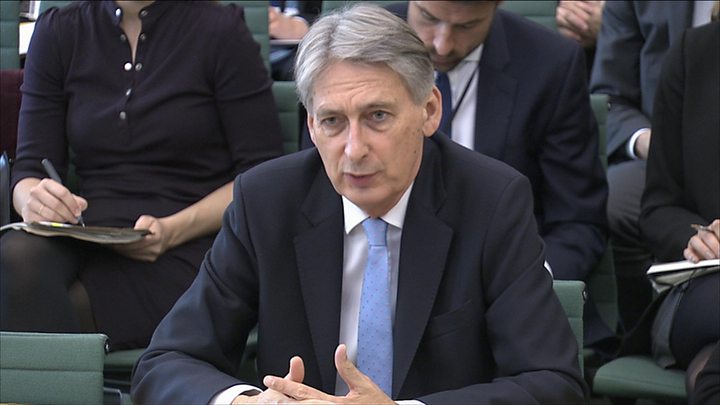 Taxpayers' money will not be spent on preparing for a "no-deal" Brexit until the "very last moment", Chancellor Philip Hammond has suggested.
He told MPs he was preparing for all possible outcomes, including "no deal", and would make money available in a "timely" manner when needed.
But he said he wouldn't take money from other areas, like health or education, now just to "send a message" to the EU.
One ex-minister said billions should be set aside for a "no deal" scenario.
David Jones warned failure to earmark funds for additional customs staff and infrastructure in November's Budget would leave the UK "scrambling" to implement new border controls if there was no deal.
If money was not set aside, he said it would be seen as a "a sign of weakness" by EU leaders who would think the UK was not serious about leaving the EU without a deal.
Reality Check: What would 'no Brexit deal' look like?
May won't say if she'd vote for Brexit now
EU's Tusk warns over 'slow pace' of talks
After the prime minister revealed this week
Article source: http://www.bbc.com/news/uk-politics-41577065

Useful Links: Swiss Watches | Watch Coupons | Coupons | Alu Foam | Security Rooms | Oldtimer | Bitcoin News