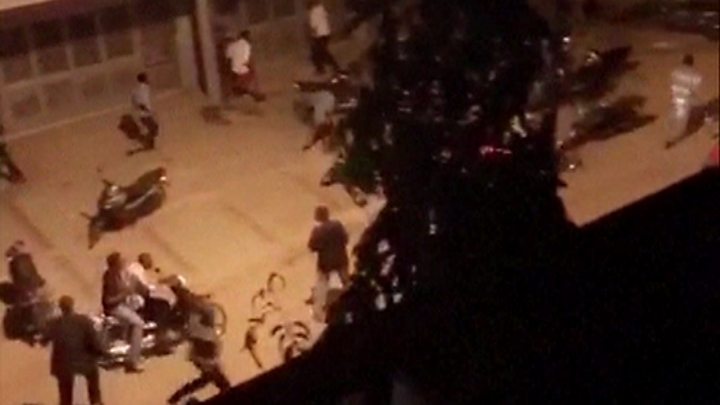 Twenty people have been killed and a number wounded in a "terrorist attack" in the centre of the capital of Burkina Faso, Ouagadougou, the government says.
Gunmen opened fire on customers seated outside a restaurant, witnesses said. One Turkish citizen died but other nationalities are yet to be confirmed.
The attack is now over, authorities say, with the two assailants also killed by security forces.
A jihadist attack on a nearby cafe killed 30 people in January last year.
There are fears that the latest attack is the work of one of the affiliates of al-Qaeda that are active in the Sahel region, the BBC's Alex Duval Smith reports.
Minister of Communication Remis Dandjinou confirmed on Monday that the attack was over, with security forces carrying out checks on neighbouring buildings.
The shooting began shortly after 21:00 (21:00 GMT) on Sunday on Ouagadougou's busy Kwame Nkrumah Avenue.
Security forces launched a counter assault at 22:15 and the shooting ended at about 05:00 on Monday.
A Turkish restaurant, the
Article source: http://www.bbc.com/news/world-africa-40920338

Useful Links: Swiss Watches | Watch Coupons | Coupons | Alu Foam | Security Rooms | Oldtimer | Bitcoin News