Updated 1412 GMT (2212 HKT) November 23, 2017
Chat with us in Facebook Messenger. Find out what's happening in the world as it unfolds.
It was a once-in-a-decade display of American firepower.
The aircraft carriers USS Ronald Reagan and USS Carl Vinson steam with their strike groups and ships from Japan's Maritime Self-Defense Force during bilateral training in June.
Jan-31
Tuesday 31 January:
USS Antietam runs aground in Tokyo Bay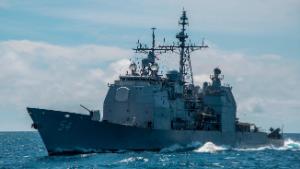 The USS Antietam, a guided-missile cruiser, damaged its propellers and spilled hydraulic oil into the water after running aground while the ship was anchoring in Tokyo Bay.
May-9
Tuesday 9 May:
USS Lake Champlain collides with South Korean fishing boat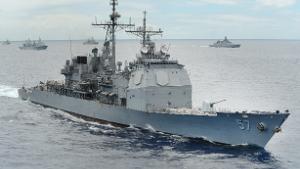 The guided-missile cruiser was struck by a 60- to 70-foot-long South Korean fishing boat while conducting operations in international waters near the Korean Peninsula, the Navy said.
June-17
Saturday 17 June:
USS Fitzgerald collides with Philippine cargo ship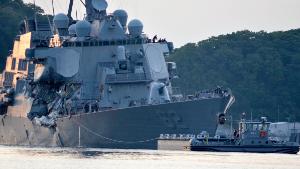 The collision between the Fitzgerald, a guided-missile destroyer, and the ACX Crystal on June 17 claimed the lives of seven US sailors. It took place 56 nautical miles off the coast of Honshu, Japan, in an area heavily traveled by commercial shipping.
Aug-21
Monday 21 August:
USS John S McCain collides with oil tanker off Singapore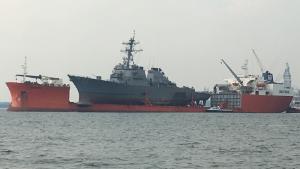 The US guided-missile destroyer collided with a Liberian oil tanker in crowded shipping lanes off Singapore, leaving 10 US sailors dead and five more injured. The accident left a large highly visible hole in the US ship.
Nov-18
Saturday 18 November:
USS Benfold struck by Japanese tugboat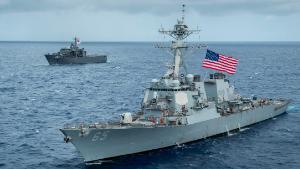 The guided-missile destroyer USS Benfold was struck by a Japanese tugboat while participating in a scheduled towing exercise off Japan. The tug boat lost propulsion and drifted into the US ship, the Navy said. No one was injured.
F/A-18 Hornets fly over US and South Korean warships during an exercise off the Korean Peninsula.
F/A-18 Hornets fly off the carrier USS Carl Vinson off the Korean Peninsula in March. US officials say they've had to scavenge parts to keep the F/A-18s flyable.
The US 7th Fleet this year has participated in about 160 exercises with other countries, including this one with Japan's Maritime Self-Defense Force.
The littoral combat ship USS Coronado fires a Harpoon missile during Exercise Pacific Griffin, conducted with the Singaporean navy.