With the global stock selloff rattling markets globally, investors in Korean equities may be looking forward to some welcome distraction: the Winter Olympics.
South Korea will host the games this week in the alpine resort town of Pyeongchang with 2,925 registered athletes — the largest number ever at an Olympic Winter Games — from 92 national committees. What's more, political instability on the Korean peninsular has calmed thanks to a diplomatic gambit initiated by South Korean President Moon Jae-in and embraced at the start of the year by North Korean Supreme Leader Kim Jong Un.
Shares of companies with a direct link to the games gained as much as 78 percent last year, indicating that investors tend to play the 'Olympic theme.' Still, some stocks don't make for long-term investments, said Cho Byung-hyun, a strategist at Yuanta Securities Korea Co., as sales can fade after the event.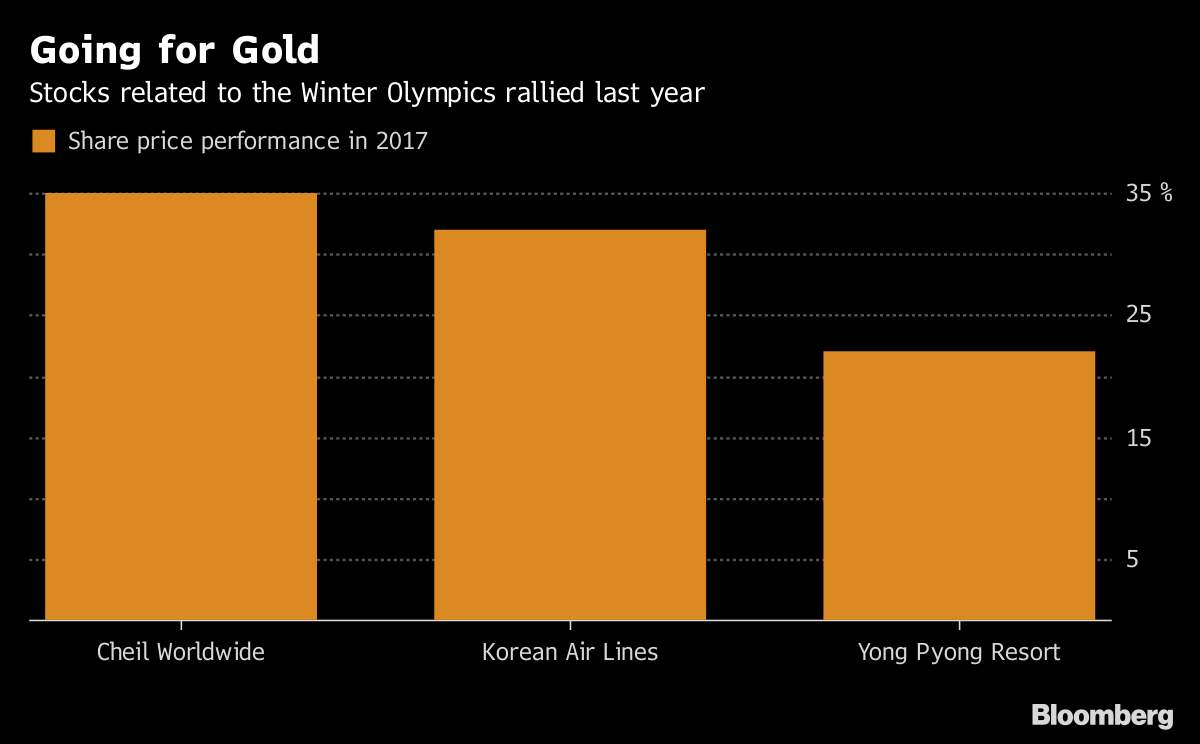 QuickTake on why North Korea's in and Russia's (kinda) out at the Olympics
Here are some sectors that could benefit from the event:
Tourism

The participation of North Korean athletes in the Olympics has eased geopolitical risks on the Korean Peninsula, resulting in an increase of overseas travelers to the country, said Kim Yeong-Ho, an analyst at Samsung Securities, who recommends buying shares of Korean Air Lines Co. and Jeju Air Co.
The winter games should draw in 2.8 million overseas travelers to South Korea in February and March, a 15 percent jump from the same period a year earlier, according to data from Seoul's city government.
Yong Pyong Resort Co., which manages newly-built residential apartments for players at the Olympics site and plans to sell units to the public after the games, is expected to post 10 percent earnings growth for 2018, said Se-Ra Park, an analyst at Shinyoung Securities Co. The stock rallied 22 percent in 2017.
Clothing Makers
South Korea's clothing makers rallied months before the Olympics on expectations of a boost in sales of apparels and shoes made to mark the event. Shinsung Tongsang Co., the official Olympics winter jacket maker, surged as much 20 as percent in November and jumped 13 percent last month. Shares of Fila Korea Ltd., which makes the similar jackets and provides uniforms for athletes, rallied 22 percent since Nov. 1.

"We've added some clothing makers' stocks since fourth-quarter of 2017, expecting earnings growth on unusually cold weather and special sports item marking the Olympics," said Kim Sungtae, a portfolio manager at KTB Asset Management. "The Moon Jae-in government's policy to stimulate domestic spending will buoy the shares even after the Olympics. Earnings will be better than expected."
Telecommunication Services
SK Telecom Co., KT Corp. and LG Uplus Corp. will benefit from the event as South Korea government officials plan to promote "5G technology," said Kim Hong-Sik, an analyst at Hana Financial Investment Co. The providers plan to showcase the new generation wireless network platform at the games to pique consumer interest before the standard is rolled out next year, Kim wrote in a Jan. 30 note. Telecom shares are "highly attractive," Kim wrote.
"What I'm watching for Olympics is the 5G event," said Lee Sung-Min, managing director at Eugene Asset Management in Seoul. "I've asked some of my team members to visit there and see if there's any investment opportunity."
Advertisers
Advertising companies such as Cheil Worldwide Inc. will post 1Q earnings growth due to Olympics sponsorship, says Ahn Jae-Min, an analyst at NH Investment Securities Co. Internet companies including Naver Corp. and Kakao Corp. will post higher-than-expected earnings during the period due to commissions for ads and commercials during the games, said Kim Hak-joon, an analyst at Kiwoom Securities.

Inter-Korean Business
Stocks linked to businesses between South and North Korea are another group to watch. Thawing tensions due to North Korea's participation in the event are buoying stocks of companies running inter-Korean businesses. Jaeyoung Solutec Co., operator of a factory at Gaeseong Industrial Complex, an industrial park run by the two Koreas that has been shut down since 2016, surged 51 percent in January after Kim Jong Un's call to reopen a hotline between the two nations.
— With assistance by Margo Towie, and Andy Sharp