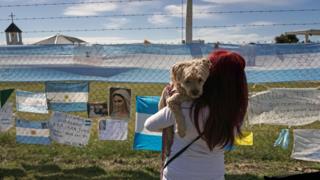 The Argentine navy says an event consistent with an explosion was recorded near where a submarine disappeared last week with 44 crew on board.
An "abnormal, singular, short, violent, non-nuclear event" had been detected in the south Atlantic, a spokesman said.
The information was relayed via Argentina's ambassador in Austria, Captain Enrique Balbi said.
It follows a report of a loud noise in the same area.
The ARA San Juan disappeared last Wednesday. More than a dozen
Article source: http://www.bbc.com/news/world-latin-america-42100620

Useful Links: Swiss Watches | Watch Coupons | Coupons | Alu Foam | Security Rooms | Oldtimer | Bitcoin News