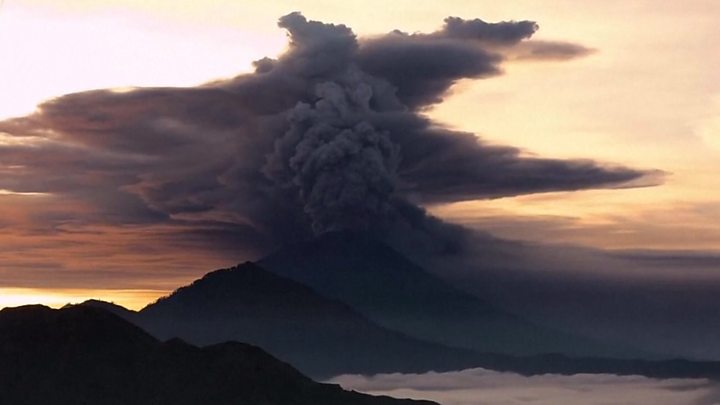 Fears of an imminent major eruption of Bali's Mount Agung have increased and the evacuation zone around the volcano has been widened.
The Indonesian authorities have raised the state of alert on the island to its highest level.
The island's airport has now closed, leaving many stranded in the tourist hotspot destination.
Dark smoke has been seen billowing up to 3,400m (11,150ft) above the mountain's summit.
The National Board for Disaster Management said explosions were being heard 12km (7 miles) from the summit.
The alert was raised to the level four from 06:00 local time (22:00 GMT) on Sunday, because of "the possibility and imminent risk of disaster".
"The rays of fire are increasingly observed at night. This indicates the potential for a larger eruption is imminent," it said in a statement (in Indonesian) on its Facebook page.
The authorities have been distributing masks for local residents, and have ordered people within a widened 10km (six-mile) exclusion zone to evacuate the area.
The main resorts of Kuta and Seminyak are about 70km (43 miles) from the volcano.
Officials and volcanologists on Saturday confirmed that magma – molten rock – had been detected close to the volcano's surface.
The information director of Indonesia's Disaster Mitigation Agency also tweeted that volcanic ash rain had fallen on the Lombok city of Mataram.
About 25,000 people are thought to still be in temporary shelters after more than 140,000 people fled earlier this year. Increased volcanic activity then had prompted unrealised fears that a major eruption was imminent.
Most of the islanders outside the immediate exclusion zone were ordered to return home at the end of September, and the mountain has been intermittently rumbling since.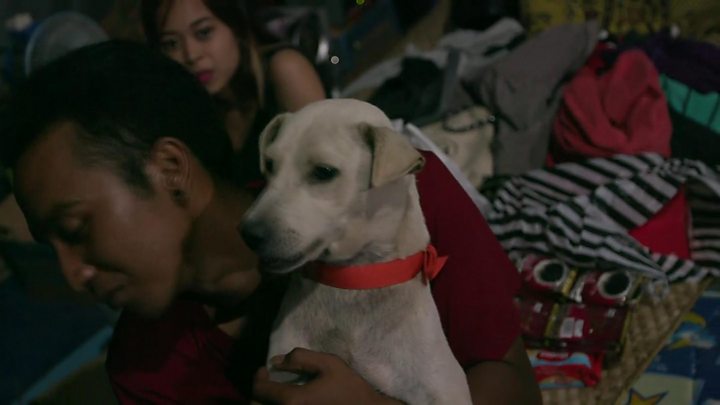 According to official estimates, the holiday island lost at least $110m (£83m) in tourism and productivity during that major evacuation.
Indonesia sits on the Pacific "Ring of Fire" where tectonic plates collide, causing frequent seismic and volcanic activity.
It is home to more than 130 active volcanoes. The last time Mount Agung erupted, in 1963, more than 1,000 people died.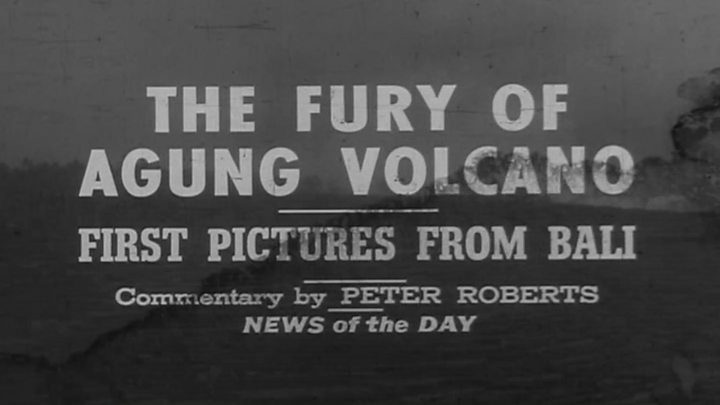 ---
Are you in the area? What are conditions like currently? If it is safe to do so, email haveyoursay@bbc.co.uk
You can also contact us in the following ways:
---