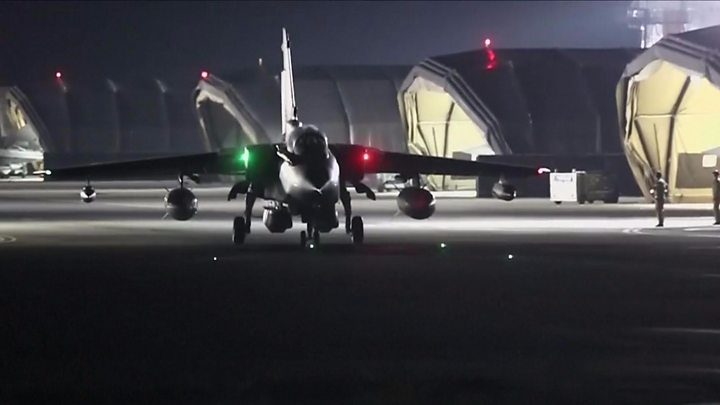 The UK is "confident" that air strikes carried out by Britain, the US and France on suspected chemical weapons facilities in Syria have been successful, the PM has said.
Theresa May also said it had been "right and legal" to take action.
Military bases near the capital Damascus and the city of Homs were targeted, after an alleged chemical attack on the Syrian town of Douma.
Labour's Jeremy Corbyn called the strikes "legally questionable".
Syrian state media said there had been a "violation of international law".
US and allies launch strikes on Syria
Syria 'chemical attack': What we know
Speaking in Downing Street, Mrs May said the "limited and targeted strikes" had degraded the Assad regime's ability to use chemical weapons.
"This collective action sends a clear message that the international community will not stand by and tolerate the use of chemical weapons," she added.
She also said she would make a statement to Parliament on Monday and give MPs a chance to ask questions.
The Ministry of Defence said Storm Shadow missiles were launched by four RAF Tornados at a former missile base 15 miles west of Homs, where it is thought the Assad regime has been stockpiling items used to make chemical weapons.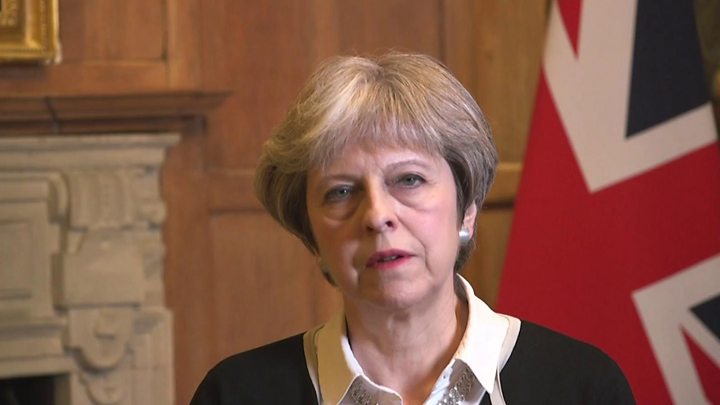 An MoD spokesperson added the facility was "located some distance from any known concentrations of civilian habitation" and scientific analysis was used to "minimise any risks of contamination to the surrounding area".
Mrs May said she believed the attack was "the right thing to do" and was "absolutely in Britain's national interest".
What was the UK's involvement in the air strikes?
By Jonathan Beale, BBC defence correspondent
The four British Tornado Jets took off in the early hours of this morning here from RAF Akrotiri in Cyprus. Each was armed with a Storm Shadow missile.
The cruise missile is 5m (16ft) long and has a range of 300 miles. They had already been programmed to find their target using GPS.
The four Tornados fired the missiles well away from Syrian airspace out of range of the regime's air defences and then they all returned safely.
The Ministry of Defence has described the action as "proportionate". While the UK might appear to have played a minor role in these strikes the defence secretary Gavin Williamson said it was part of a united response that sent a clear message to President Assad.
"This is not about intervening in a civil war. It is not about regime change," she said.
"It is about a limited and targeted strike that does not further escalate tensions in the region and that does everything possible to prevent civilian casualties."
Defence Secretary Gavin Williamson also said it had been a "highly successful mission".
He said the UK, France and America had played an important role in "degrading the ability of the Syrian regime to use chemical weapons".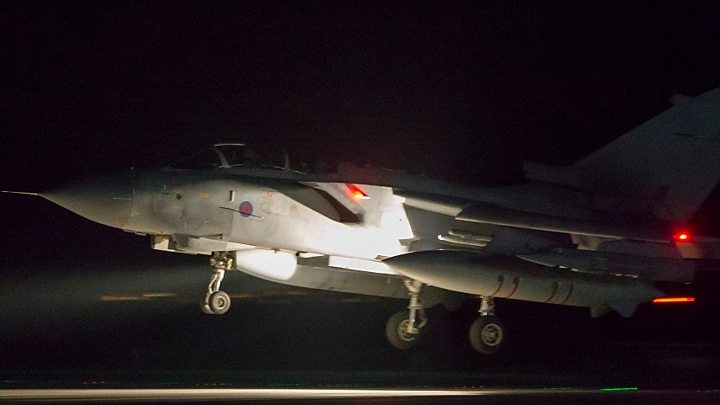 Foreign Secretary Boris Johnson welcomed the news, saying the "world is united in its disgust for any use of chemical weapons, but especially against civilians".
He said the military strikes were targeting "major chemical weapons facilities in Syria".
'Chemical weapon stockpile'
The Ministry of Defence (MoD) said that the four RAF Tornados launched Storm Shadow cruise missiles at a Syrian military facility.
The former missile base was assessed to have been used by the Syrian regime to "keep chemical weapon precursors stockpiled in breach of Syria's obligations under the Chemical Weapons Convention," the MoD said in a statement.
PM has chosen which way to jump on Syria
By Laura Kuenssberg, BBC political editor
Prime ministers don't choose the decisions that face them. But they have to judge which way to jump.
In 2013, Theresa May's predecessor tried and failed to get approval for military action against President Assad. There was international alarm, then as now, about his suspected use of chemical weapons.
But MPs rejected David Cameron's plan and he didn't try again to persuade Parliament it was necessary.
Mr Williamson said that relations between Britain and Russia – Syria's key ally – were at a low point.
The US Russian embassy Twitter account called the action "unacceptable and inadmissable".
And Syria's official Sana news agency cited an unnamed source as saying: "When terrorists failed, the USA, France and Britain intervened and committed aggression against Syria.
"The American, French and British aggression against Syria will fail."
In the UK, Mr Corbyn condemned the government's involvement in the air strikes, saying it "makes real accountability for war crimes and use of chemical weapons less, not more likely".
He added that Mrs May should have sought parliamentary approval.
Scotland's First Minister Nicola Sturgeon said Mrs May had not answered how the action, "taken without parliamentary approval, will halt their [Syria's] use" of chemical weapons "or bring long term peace".
Liberal Democrat leader Sir Vince Cable also said the PM should have consulted MPs, adding: "Riding the coat-tails of an erratic US president is no substitute for a mandate from the House of Commons."
But Northern Ireland's Democratic Unionist Party said Mrs May had "the full authority" to order the air strikes and said "we reject any suggestion that she was not entitled to do so".
What is an RAF Tornado?
The Tornado has been one of the mainstays of the RAF since first entering service in 1980 and the aircraft were used to enforce no-fly zones in Iraq.
It is mainly used as a strike or attack aircraft.
Weapons such as the Storm Shadow cruise missile mean that the Tornado can hit targets from a significant distance. The MoD describes the missile as being designed for "long range, highly accurate, deep penetration" against enemy command and control bunkers. It is fired from a Tornado GR4.
Tornado GR4s are also equipped with Brimstone missiles, an effective anti-armour weapon and can also be used for all-weather, day and night tactical reconnaissance.