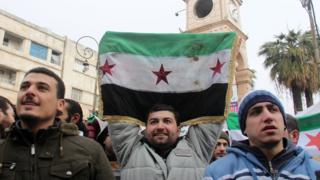 Fighting between government and rebel forces has been reported in parts of Syria despite a nationwide truce coming into force overnight.
The Syrian Observatory for Human Rights, a UK-based monitoring group, said there had been fierce clashes and air strikes in northern Hama province.
There was also fighting in Wadi Barada, a key valley near Damascus, it added.
There has so far been no comment from Turkey and Russia, which brokered the truce in a bid to restart peace talks.
Several armed groups, including so-called Islamic State (IS) and the Kurdish YPG militia, are excluded from the initiative.
Reports of clashes between the various warring parties began to emerge within hours of the truce starting at midnight local time (22:00 GMT on Thursday).
The Syrian Observatory said government warplanes had carried out 16 air strikes on rebel-held areas in the northern countryside of Hama province on Friday.
The Local Co-ordination Committees (LCC), an opposition activist network, said the town of Halfaya had been targeted, but did not report any casualties.
The Syrian Observatory and LCC also reported that there had been fighting in Wadi Barada, a valley in the mountains north-west of Damascus.
They said helicopters were attacking the village of Basima and positions held by rebels and allied jihadists from Jabhat Fateh al-Sham, which was known as al-Nusra Front until it formally broke ties with al-Qaeda in July.
---
The new kingmaker – Lyse Doucet, BBC chief international correspondent
This deal was declared before it was done and dusted. Seven groups said to have signed up include Ahrar al-Sham, which Moscow and Damascus have always described as terrorists. Ahrar al-Sham says it has "reservations". Do they have anything to do with backers like Saudi Arabia and Qatar?
But a new top table has been forged before a new US president enters the scene. Russia is confirmed as the foreign force which matters. Turkey displaced the US as kingmaker on the other side. It has bargaining chips and, most of all, wants to stop the sway of Syrian Kurdish forces, who are US allies.
Many opposition fighters will welcome a pause after their stinging defeat in Aleppo. But they and Turkey still want President Assad to step down. That conflicts with Iran, the other key player, as well as Mr Assad's own circles. But that's for the next round in this new great game which could be talks in Astana, in Russia's orbit.
---
On Thursday, the UN expressed concern about the fighting in Wadi Barada and neighbouring Ain al-Fijah, saying combatants were deliberately targeting and damaging local springs that are used to supply some four million people in the Damascus area with drinking water.
Earlier on Friday, residents of the Eastern Ghouta region outside Damascus said they had heard gunfire after the ceasefire took effect, and isolated incidents were reported in the north-western province of Idlib.
Meanwhile, Turkish military officials said Russian aircraft had carried out three air strikes against IS militants around the northern town of al-Bab.
The strikes appeared to be the first Russian support for a Turkish-backed rebel offensive aimed at recapturing the last IS stronghold in Aleppo province.
Russia has carried out an air campaign in support of President Bashar al-Assad since September 2015, while Turkey is a major supporter of the rebellion.
---
Will the ceasefire hold?
The diplomatic noises are encouraging, and even the rebel groups involved have suggested it could succeed.
However, previous initiatives this year quickly collapsed.
Syrian Foreign Minister Walid Muallem said there was "a real chance to reach a political settlement to end the bloodshed and establish the future of the country".
The fact that the rebels have been losing ground may help.
---
Who is included in the deal?
On the one side, Syrian government forces, allied militias and the Russian military.
On the other, a loose alliance of moderate rebel factions that operate under the banner of the Free Syrian Army (FSA), plus several other groups.
The Russian defence ministry listed seven of the "moderate opposition formations" included in the truce as Faylaq al-Sham, Ahrar al-Sham, Jaysh al-Islam, Thuwwar Ahl al-Sham, Jaysh al-Mujahidin, Jaysh Idlib and Jabhah al-Shamiya.
Ahrar al-Sham and Jaysh al-Islam are powerful Islamist groups that Russia has previously described as terrorist organisations.
A spokesman for Ahrar al-Sham also told Reuters news agency that the group had "reservations" and had not signed the deal.
---
Who is not included?
Jihadists. So-called Islamic State "and the groups affiliated to them" are not part of the agreement, according to the Syrian army.
There are conflicting reports about whether Jabhat Fateh al-Sham is included in the truce agreement. The Syrian army said it was not on Thursday, but several rebel officials disagreed, giving a hint of the complications that lie ahead.
This is because JFS is part of a powerful rebel alliance that controls much of Idlib province.
The FSA also said the deal did not include the Kurdish Popular Protection Units (YPG). The militia, which has captured large swathes of north-eastern Syria from IS with US support, is not officially aligned to either the opposition or government, but is designated a terrorist organisation by Turkey.
---
What are the terms of the deal and where does it cover?
It is nominally nationwide, although that really only covers the areas where the sides who have signed up have a presence.
Looking at the map, there are large swathes under both IS and Kurdish control.
One area that is included is the Eastern Ghouta, where government forces have been advancing in recent months.
Under the terms of the deal, the peace talks would begin within a month of the truce taking effect – and holding – and would be held in Kazakhstan.
---
If you are in Syria and you are able to talk about your experiences email haveyoursay@bbc.co.uk with your stories.
Please include a contact number if you are willing to speak to a BBC journalist. You can also contact us in the following ways:
WhatsApp: +44 7525 900971
Send pictures/video to

yourpics@bbc.co.uk

Tweet: @BBC_HaveYourSay
Send an SMS or MMS to 61124 or +44 7624 800 100