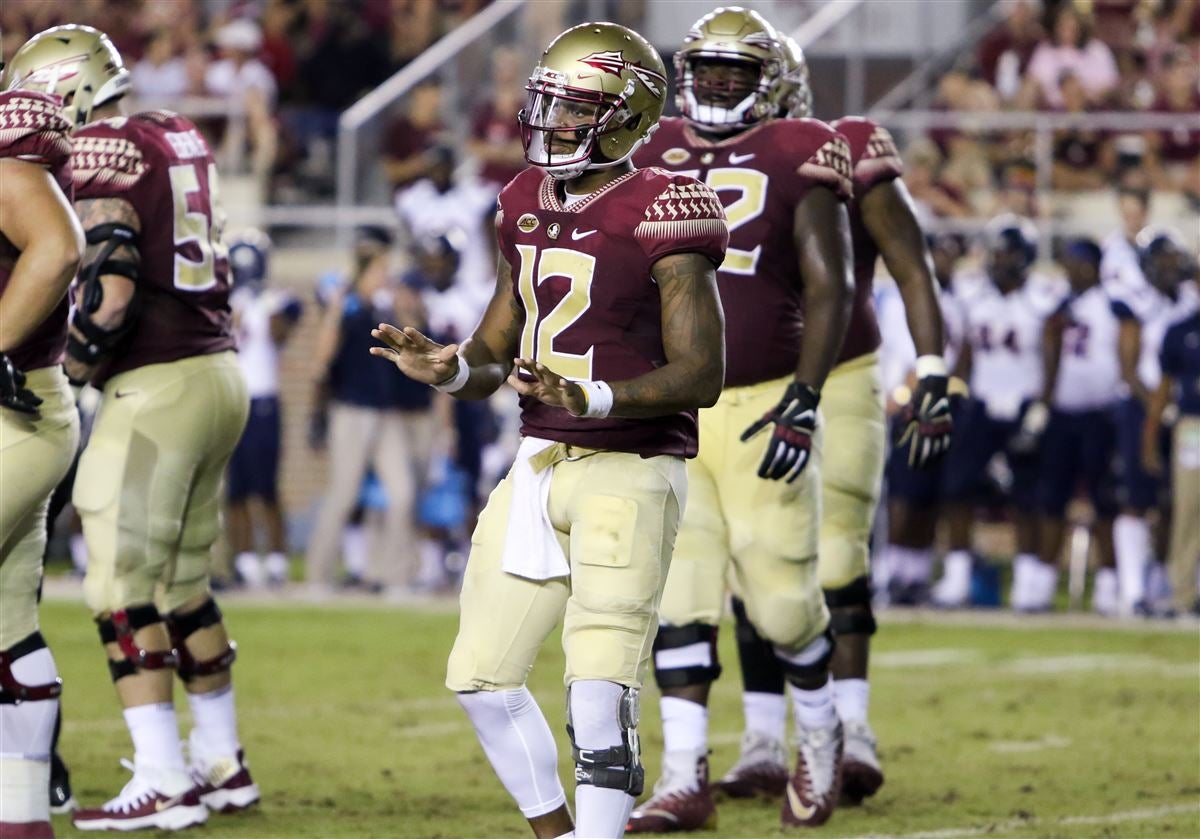 TALLAHASSEE — Florida State flirted with an 0-2 start to the 2017 campaign, but managed to pull off a 36-26 win over Samford on Saturday.
The Seminoles led for just over four minutes of the game against the FCS opponent, finally pulling ahead on an 11-play, 82-yard drive that lasted 3:49 (the longest drive of the game) in the back half of the fourth quarter.
"It wasn't pretty but it was good to see our guys find a way to come back and get a win after we started slow and weren't playing as well," said coach Willie Taggart .
For a team that was coming off a short week and a 24-3 loss to Virginia Tech, FSU won't be fussy. A win is a win. But some major problems still persist and must be corrected if FSU wants to eventually field a quality team that can build something substantial down the road.
Here are three things we learned from FSU's narrow victory…
1. The offense is still formulating an identity…and it isn't pretty
The good? FSU managed to score when it needed, protected the football and recorded three touchdowns inside the red zone on as many attempts. These were issues against Virginia Tech, so growth is growth no matter who it comes against.
The bad? The Seminoles averaged 5.6 yards per play against an FCS team.
The ugly? The offensive line has not developed any continuity thus far, QB Deondre Francois still doesn't look comfortable making quick reads in the RPO aspect of the offense and FSU averaged just 3.8 yards per carry (4.2 YPC sack-adjusted).
So there's a lot of unwrap here. But the biggest takeaway is that the offense just doesn't look cohesive and the Seminoles are 92nd nationally with 5.42 yards per play. Not great.
Not all issues should be blamed up front, because there were still drops in the passing game and Francois did not appear to routinely help out the run game with reads he made on the defensive end (unless FSU isn't consistently implementing true option runs…it's frankly hard to tell). But it's clear that confidence is lacking among an offensive line that has dealt with injuries and has run through about 10 combinations so far.
We saw FSU run a rubble screen on 3rd and 1 in the second quarter and then get stuffed on a run on 4th and 1 in the third quarter. The first play showed a lack of confidence with the line and the second justified the lack of confidence.
Willie Taggart, when asked about the team's issues on 3rd down (4 of 14) and play calling, was fairly blunt:
"We can call a different play if we want to, there's plenty plays that we have. We can call a different play. But for the plays that we call to work, we've got to execute it. When I say execute it, we've got to block it and then our backs have got to run it. It's 3rd and 1, you go get the first down. You can't dance around. Offensive line has got to come off the ball, you've got to move people."
The problems with the line seem uncorrectable at this point. Losing the top player (Landon Dickerson) to an ankle injury didn't help, nor did losing starter Cole Minshew. Jauan Williams struggled at left tackle for a second consecutive game. A recently converted defensive tackle, Arthur Williams, made his first career start at guard. It's a position that lacked quality depth entering the season and attrition has already started to take its toll on a group that really needed its five best players healthy to have a chance at being adequate.
There is some silver lining, although it's admittedly a sliver of silver lining. TE Tre' McKitty had the go-ahead touchdown catch and looks comfortable as a receiver in this offense, totaling 59 yards and a score on five catches. WR Tamorrion Terry apparently had a good week of practice and had two touchdowns on three targets. FSU's run game and perimeter passing game still need a lot of work, but vertical passing looks like something to build around based on early results.
2. The defense isn't elite, but it's in good hands
It didn't take long for the "Third and Kelly" references to pop up after FSU surrendered a couple of third-down conversions early in the game. And FSU ultimately allowed 525 yards — including 475 passing yards — so there are issues among this defense. It's far from perfect.
But defensive coordinator Harlon Barnett made significant half-time adjustments that worked. And for a second game in a row, FSU's defense responded after a sluggish start. Those are encouraging developments.
The Seminoles limited Samford to 3 third-down conversions on 13 attempts, giving FSU the No. 9 opponent third-down conversion rate (22.22 percent) in the country. FSU's lack of pass-rush production — 0 sacks — was a concern, but the defense eventually found a way to make QB Devlin Hodges uncomfortable and forced him into four interceptions. Barnett's willingness to quickly adapt — FSU went with more zone coverage and put in a defensive-back heavy personnel in the second half — should be noted. FSU allowed just 4.7 yards per play in the second half, including 2.1 yards per play in the third quarter.
There are still some problems to address. Primarily the secondary has surrendered too many big plays in one-on-one coverage through two games. It doesn't appear to be an elite unit at this time, but FSU's defense has enough quality pieces to get by as it replenishes depth at some positions (primarily linebacker) and a capable coordinator who appears comfortable tweaking his approach in order to get the best 11 on the field.
3. Special teams is a mess
There just aren't many positives among special teams through two games.
The most problematic aspect right now is kicking. Ricky Aguayo was 0-for-2 on Saturday and moved to 1-for-4 on the season as he missed field-goal attempts of 40 and 42 yards.
The return game has been meh. FSU is averaging 8.00 yards per punt return (64th nationally) and 23.57 yards per kickoff return (42nd nationally), but it just lost its top kickoff returner in Khalan Laborn (dislocated knee).
Opponents have not fielded a kickoff return versus FSU yet. The Seminoles are allowing 10.33 yards per punt return (78th nationally).
Punter Logan Tyler was a bright spot, averaging 46.4 yards on seven punts while placing three inside the 20.
And remember, FSU allowed a punt to be blocked and returned for a touchdown on Monday.
Thus far, special teams hasn't offered much in the way of positives.