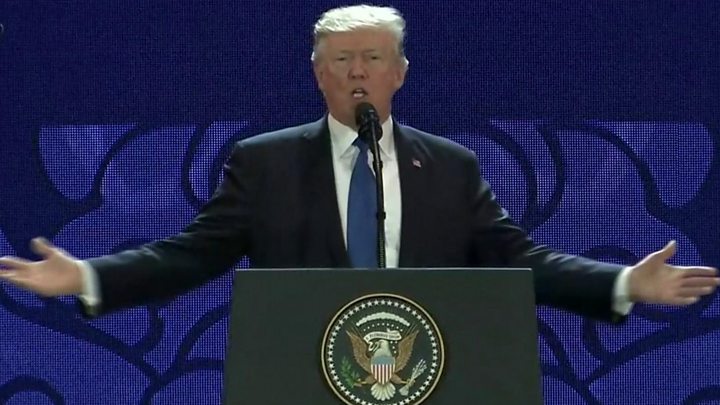 President Donald Trump has said the US will no longer tolerate "chronic trade abuses", in a defiant address at the Asia-Pacific Economic Co-operation (Apec) summit in Vietnam.
He said he would always put US interests first and Apec nations should "abide by fair reciprocal trade".
In stark contrast, China's Xi Jinping said globalisation was irreversible and voiced support for multilateralism.
Mr Trump is currently on a five-nation Asia tour, with China one of his stops.
Apec brings together 21 economies from the Pacific region – the equivalent of about 60% of the world's GDP.
Since taking office, President Trump has pursued his "America First" agenda and pulled the US out of the regional Trans-Pacific Partnership – a major trade deal with 12 Apec nations – arguing it would hurt US economic interests.
Trump says trade deficit not China's fault
Trump, China and Twitter – what's going on?
The hidden messages in Trump's Asian menu
What did Trump say?
In a speech in the Vietnamese port city of Da Nang on Friday, President Trump railed against the World Trade Organization, which sets global trade laws, and said it "cannot function properly"
Article source: http://www.bbc.com/news/world-asia-41937426

Useful Links: Swiss Watches | Watch Coupons | Coupons | Alu Foam | Security Rooms | Oldtimer | Bitcoin News