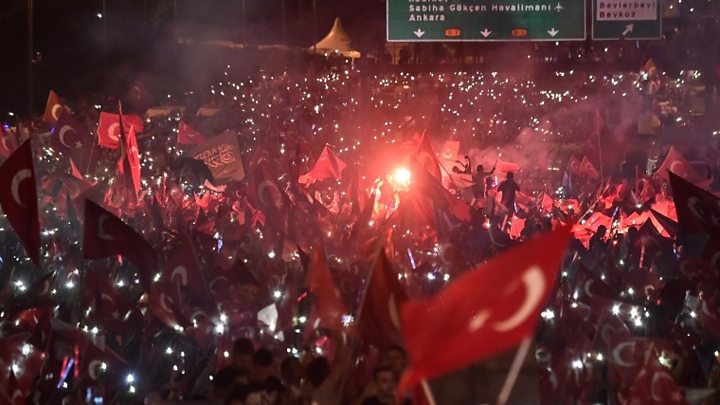 Turkish President Recep Tayyip Erdogan has given emotional speeches to tens of thousands of people a year after a coup attempt was faced down in the streets.
Mr Erdogan said: "People that night did not have guns, they had a flag and more importantly, they had their faith."
He backed the death penalty for coup plotters and said they should wear Guantanamo Bay-style uniforms.
Nearly 250 people died and 2,196 were wounded fighting the coup attempt by an army faction on 15 July last year.
The coup failed for several reasons, including a lack of support in higher echelons of the armed forces and a lack of political or public backing.
Plotters tried to detain Mr Erdogan as he holidayed in an Aegean resort, but he had left and the coup was thwarted by civilians and soldiers loyal to the president. It is on these people that the president has focused in commemorations.
But correspondents say that the national unity that was initially felt against the coup has faded, and divisions have widened.
Opponents of Mr Erdogan boycotted the day and night of speeches and pageantry. They
Article source: http://www.bbc.com/news/world-europe-40616488

Useful Links: Swiss Watches | Watch Coupons | Coupons | Alu Foam | Security Rooms | Oldtimer | Bitcoin News