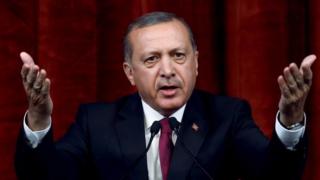 Turkey's president has said he wants to close the nation's military academies and put the spy agency and the military chief of staff under his own control.
Recep Tayyip Erdogan said the proposals would be brought before parliament.
The measures are the latest in a large-scale crackdown launched after the failed coup on 15 July.
The authorities say Fetullah Gulen was behind the army-led coup in which at least
Article source: http://www.bbc.com/news/world-europe-36934889

Useful Links: Swiss Watches | Watch Coupons | Coupons | Alu Foam | Security Rooms | Oldtimer | Bitcoin News