3:47 AM ET
It wasn't all bad news for the Big Ten on Saturday.
On a day when Big Ten members Maryland, Nebraska, Northwestern and Wisconsin each lost to double-digit underdogs at home — and Rutgers lost at Kansas by, ahem, 41 points — Ohio State salvaged what was left of the league's reputation.
OSU is the Big Ten's best CFP hope after a bad Week 3
Michigan lost to Notre Dame. Penn State needed OT to beat Appalachian State. And Wisconsin lost to BYU. Well, Ohio State, the Big Ten's playoff hopes are on you.
The most important Week 3 takeaway for each Top 25 team
Wisconsin gets stunned, Kyler Murray aces his first road test and LSU outlasts Auburn in another wild one. What else have we learned so far?
Baker 2.0, LSU's late-game magic and Bama in beast mode
Kyler Murray looks like Baker, LSU looks like a contender and the Crimson Tide look absolutely unstoppable. What else do we know for sure through three weeks?
The Buckeyes, playing without coach Urban Meyer for the third game in a row (his suspension ended after Saturday's game), came from behind to stun TCU 40-28 on the road in Arlington, Texas. The marquee nonconference road victory might mean quite a bit in November, when the College Football Playoff selection committee chooses the teams for the coveted four spots.
The Buckeyes weren't the only Big Ten team that played well on what was a very bad day for the league. Penn State walloped Kent State 63-10 and Michigan rolled SMU 45-20, as both of those teams seem to have their seasons headed back in the right direction.
As a result, Ohio State, Penn State and Michigan were among the big movers in this week's Power Rankings.
Remember, the Power Rankings are about how you look and whom you play each week. Forget the body of work or the brand name. These rankings drip with recency bias.
Here are the rankings after Week 3:
---
1. Alabama
Week 3 result: Defeated Ole Miss 62-7
What's next: vs. Texas AM (Saturday, TBD)
Alabama continues to look head and shoulders better than everyone else, becoming the first SEC team to score 50 points or more in its first three games. The Crimson Tide led 49-7 at the half at Ole Miss on Saturday night, their second-highest scoring total in the first half against an SEC opponent (they had 52 against Vanderbilt in 1990). The Tide scored on seven of their first nine possessions against the Rebels, who were no match for what looks like Nick Saban's most explosive offense at Alabama.
---
2. Ohio State
Week 3 result: Defeated TCU 40-28
What's next: vs. Tulane (Saturday, TBD)
The Buckeyes couldn't have asked for a better ending to coach Urban Meyer's three-game suspension than coming from behind to beat the Horned Frogs at a neutral site in Texas. Quarterback Dwayne Haskins passed his first big road test, completing 24 of 38 passes for 344 yards with two touchdowns.
---
3. Georgia
Week 3 result: Defeated Middle Tennessee State 49-7
What's next: at Missouri (Saturday, 12 p.m. ET, ESPN)
Georgia's rebuilt defense looked better in a rout of the Blue Raiders, who had only 288 yards of offense with 14 first downs. UGA's secondary, with first-time starters Mark Webb and William Poole, helped limit MTSU to only 130 passing yards. It might get a stiff test from quarterback Drew Lock at Missouri next week.
---
4. Clemson
Week 3 result: Defeated Georgia Southern 38-7
What's next: at Georgia Tech (Saturday, 3:30 p.m. ET, ABC)
Freshman quarterback Trevor Lawrence played the entire second half, after starter Kelly Bryant suffered a bruised chest in the first half. Lawrence was pretty sharp, completing 12 of 19 passes for 194 yards with one touchdown and one interception.
---
5. Oklahoma
Week 3 result: Defeated Iowa State 37-27
What's next: vs. Army (Saturday, 7 p.m. ET)
In their first game without star tailback Rodney Anderson, who suffered a season-ending knee injury last week, the Sooners piled up 519 yards of offense in a road victory in their Big 12 opener. Quarterback Kyler Murray carried much of the load, throwing for 328 yards with three touchdowns and running for 77 yards in 15 carries.
---
6. Stanford
Week 3 result: Defeated UC Davis 30-10
What's next: at Oregon (Saturday, 8 p.m. ET, ABC)
Playing without Heisman Trophy contender Bryce Love, who missed the game because of an undisclosed injury, the Cardinal rolled through their final warm-up before next week's Pac-12 North showdown at Oregon.
---
7. LSU
Week 3 result: Defeated Auburn 22-21
What's next: vs. Louisiana Tech (Saturday, 7 p.m. ET)
Quarterback Joe Burrow isn't flashy, but he showed a lot of grit in leading the Tigers to a victory over Auburn on the road. He threw a 71-yard touchdown to Derrick Dillon in the fourth quarter, and then led LSU on a late drive to set up Cole Tracy's winning 42-yard field goal on the final play.
---
8. West Virginia
Week 3 result: Game vs. NC State canceled
What's next: vs. Kansas State (Saturday, 3:30 p.m. ET)
Hurricane Florence forced the Mountaineers to cancel their scheduled road game at NC State on Saturday, depriving them of a chance to earn a second nonconference victory against a Power 5 program. There are no plans to reschedule the game at the moment.
---
9. Penn State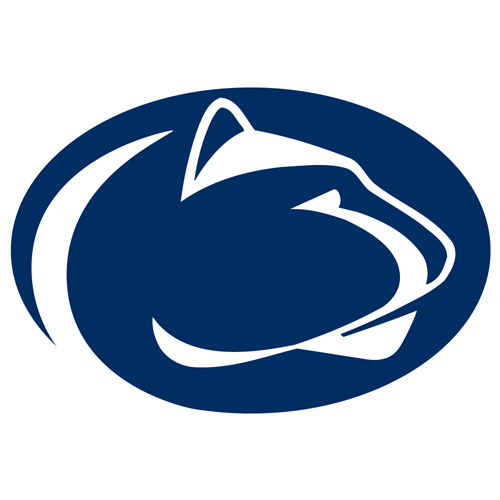 Week 3 result: Defeated Kent State 63-10
What's next: at Illinois (Friday, 9 p.m. ET, FS1)
Nittany Lions quarterback Trace McSorley accounted for five touchdowns (two passing and three rushing) and set the school career record with 24 rushing touchdowns in a rout of the Golden Flashes. After needing overtime to defeat Appalachian State in its opener, Penn State has won its past two games by a combined score of 114-16.
---
10. Mississippi State
Week 3 result: Defeated Louisiana 56-10
What's next: at Kentucky (Saturday, 7 p.m. ET)
Bulldogs quarterback Nick Fitzgerald had one passing touchdown and three scoring runs in the first half against the Ragin' Cajuns. He became only the third player in SEC history with at least 35 touchdowns both rushing and passing. Heisman Trophy winner Tim Tebow of Florida (2006-09) and former Bulldogs star Dak Prescott (2012-15) were the others.
---
11. Notre Dame
Week 3 result: Defeated Vanderbilt 22-17
What's next: at Wake Forest (Saturday, 12 p.m. ET, ABC)
The Fighting Irish moved to 3-0 after barely holding off the Commodores. Notre Dame's offense has been stagnant in the second half, scoring a total of 19 points combined after halftime in its first three games. The Irish are averaging only 3.9 yards per play after the half this season.
---
12. Virginia Tech
Week 3 result: Game vs. East Carolina canceled
What's next: at Old Dominion (Saturday, 3:30 p.m. ET, CBSSN)
East Carolina canceled its scheduled road game at Virginia Tech because of Hurricane Florence and spent the weekend in Orlando, Florida. The teams probably won't be able to make it up because of scheduling conflicts.
---
13. Auburn
Week 3 result: Lost to LSU 22-21
What's next: vs. Arkansas (Saturday, TBD)
The Tigers blew an 11-point lead in the second half of their one-point loss to LSU on Saturday, which was only the third time in the past 32 games that they've blown a double-digit lead. The Tigers wasted a 20-0 lead in a 27-23 loss to LSU in 2017.
---
14. Washington
Week 3 result: Defeated Utah 21-7
What's next: vs. Arizona State (Saturday, 10:30 p.m. ET, ESPN)
The Huskies still aren't firing on all cylinders without All-American left tackle Trey Adams, who remains out because of a back injury. They still had enough production to pick up an impressive road victory at Utah, with Myles Gaskin running for 143 yards and one touchdown, and quarterback Jake Browning throwing for one touchdown and running for another. Washington's defense continues to play well, holding the Utes to 261 yards of offense and forcing three turnovers.
---
15. Oregon
Week 3 result: Defeated San Jose State 35-22
What's next: vs. Stanford (Saturday, 8 p.m. ET, ABC)
The Ducks weren't especially sharp in their final nonconference game, but they still moved to 3-0 heading into Pac-12 play. Oregon struggled to establish its running game, and quarterback Justin Herbert completed only 16 of 34 passes with two interceptions. But he did throw three more touchdown passes, giving him 12 this season.
---
16. TCU
Week 3 result: Lost to Ohio State 40-28
What's next: at Texas (Saturday, 4:30 p.m. ET, Fox)
The Horned Frogs had too many self-inflicted wounds to defeat a team as good as Ohio State. Quarterback Shawn Robinson was sacked and fumbled in the end zone, which the Buckeyes recovered for their first touchdown. He also threw two interceptions, one of which was returned for a 28-yard touchdown by defensive lineman Dre'Mont Jones. A blocked punt set up OSU's third straight touchdown in the third quarter.
---
17. Michigan
Week 3 result: Defeated SMU 45-20
What's next: vs. Nebraska (Saturday, 12 p.m. ET)
The Wolverines ran away from an overmatched opponent for the second straight week, but coach Jim Harbaugh can't be thrilled about his team's mental mistakes. The Wolverines committed 13 penalties for 137 yards. Quarterback Shea Patterson threw three touchdown passes for the second straight week; Donovan Peoples-Jones caught each of them, matching the touchdown total for Michigan receivers in all of 2017.
---
18. Wisconsin
Week 3 result: Lost to BYU 24-21
What's next: at Iowa (Saturday, 8:30 p.m. ET, Fox)
The Badgers fell at home to the Cougars, who were 23-point underdogs and had defeated an AP top-10 opponent on the road only one other time — at Pittsburgh in 1984. Wisconsin started slowly in each of its first two games, and something doesn't quite seem right with the Badgers.
---
19. UCF
Week 3 result: Game vs. North Carolina cancelled
What's next: vs. FAU (Friday, 7 p.m. ET, ESPN)
The Knights' game at North Carolina was cancelled because of Hurricane Florence. Given the way Florida, FSU and Miami have played so far this season, UCF and FAU might be playing for the Sunshine State title on Friday night.
---
20. Oklahoma State
Week 3 result: Defeated Boise State 44-21
What's next: vs. Texas Tech (Saturday, 7 p.m. ET)
The Pokes picked up an impressive nonconference victory over the Broncos with their — gasp! — impressive defense. The Cowboys sacked quarterback Brett Rypien seven times, after he'd been sacked only six times in the previous four games combined dating to last season. Defensive end Jordan Brailford had three sacks, defensive end Jarrell Owens had two and linebacker Devin Harper had 1½.
---
21. Colorado
Week 3 result: Defeated New Hampshire 45-14
What's next: vs. UCLA (Sept. 28, 9 p.m. ET, FS1)
Colorado's defense flexed its muscles in a blowout of an FCS opponent, limiting New Hampshire to 42 rushing yards and forcing three turnovers with five sacks. The Buffaloes are 3-0 for the second straight season and get a bye week before opening Pac-12 play against the 0-3 Bruins.
---
22. Texas AM
Week 3 result: Defeated Louisiana-Monroe 48-10
What's next: at Alabama (Saturday, 3:30 p.m. ET)
The Aggies bounced back from their disheartening loss to Clemson by dismantling the Warhawks on Saturday night. Quarterback Kellen Mond passed for 210 yards and a TD, and ran for two scores, and he'll have to be better when the Aggies travel to Alabama next week. Texas AM was competitive against then-No. 1 Alabama last year, falling 27-19 at home.
---
23. Miami
Week 3 result: Defeated Toledo 49-24
What's next: vs. FIU (Saturday, 3:30 p.m. ET)
Hurricanes quarterback Malik Rosier got a much-needed confidence boost by passing for two touchdowns and running for three more — without a turnover — in a road victory over the Rockets. Standout safety Jaquan Johnson pulled his right hamstring and didn't play in the second half.
---
24. Iowa
Week 3 results: Defeated Northern Iowa 38-14
What's next: vs. Wisconsin (Saturday, 7:30 p.m. ET, Fox)
The Hawkeyes' nonconference schedule wasn't very challenging, but the team's defensive performance so far has been impressive. Iowa gave up 126 rushing yards combined in its first three games, including six in Saturday's win over an FCS foe. In fact, Iowa has given up only 25 rushing yards in its past two games combined. The Hawkeyes might get a stiffer test next week against Wisconsin's Jonathan Taylor.
---
25. Texas
Week 3 result: Defeated USC 37-14
What's next: vs. TCU (Saturday, 4:30 p.m. ET, Fox)
If the Longhorns are going to return to national prominence, Todd Orlando's defense might have to lead the way. And that's exactly what the unit did in Saturday night's upset of the Trojans, holding them to minus-five rushing yards in 16 attempts. It was USC's lowest rushing total since it had minus-20 yards against Arizona in 1999.